Summer Courses
Now Open For Registration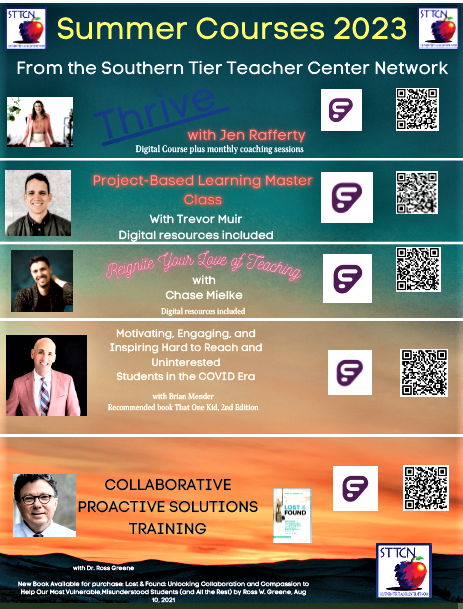 Use the registration links for more information:
Jen Rafferty: Thrive: From Surving to Thriving
Register Here
Trevor Muir: Project Based Learning
Master Class
Register Here
Chase Mielke: Reignite Your Love For Teaching
Register Here

Brian Mendler: Motivating, Engaging, and Inspiring
Hard to Reach and Uninterested Students in the Covid Era
Register Here
Dr. Ross Greene: Collaborative Proactive Solutions Training
Register Here
Cortland County Classroom Podcasting
Participate in the WSKG training Sessions (poster below)
Get a Podcasting Kit for your school (value appx. $500)

The Cortland County Teacher Center welcomes individual teachers and co-teaching teams to particpate in this regional project co-sponsored by the Southern Tier Teacher Center Network & WSKG in Binghamton. Teaching teams may choose to attend all sessions or split the training sessions between members. Each team member should individually register on Frontline. A Teacher Center director will connect with you before the training.

Cortland County Art Teachers Conference at
SUNY Dowd Fine Art Gallery

What: Professional Development and Conference Day for Cortland County Art Teachers
Where: SUNY Cortland Art and Art History Department. Dowd Fine Art Gallery and various art studios on campus
When: Friday, April 14, 2023, 9:00 am - 3:30 pm
An introduction and orientation session will kick off the event in the Dowd Fine Art Gallery, followed by a tour of the Art Department and hands-on art-making breakout sessions.
Goals:
Register Here on Frontline (open to all Art Teachers in Cortland County, NY)
To develop a connection to the greater regional upstate network of art teachers.
To provide a day of collaboration, connection, and creation on the SUNY Cortland campus.
To offer individualized workshops in painting, ceramics, and drawing facilitated by SUNY Cortland professors.
To tour SUNY Cortland art studios and collaborate with art teachers from across the region.
What:
Figure Drawing: Bryan Thomas; Room 210, Dowd Fine Arts Center
9 – 10:30 a.m. and 11 a.m. – 12:30 p.m.
Painting: Stephan Clark; Room 004, Dowd Fine Arts Center
11 a.m. – 12:30 p.m. and 2 – 3:30 p.m. and
Ceramics: Jeremiah Donovan; Room G-39, Old Main
9 – 10:30 a.m. and 11 a.m. – 12:30 p.m.
Open Studio: 2 – 3:30 p.m.
Matting & Framing Workshops
In preparation for the

2023 Imagination Celebration at


Dowd Fine Art Gallery at SUNY Cortland
February 3, 2023, 9:00am-3:00pm or
February 10, 2023 9:00am-3:00pm

There will be two days open to visit Dowd Fine Arts Center for training.
Teachers will register and attend the one that best suits your schedule.
This event is by invitation only, open to art educators participating in the 2023 Imagination Celebration.
Join Gallery Director, Jaroslava Prihodova, at the Dowd Fine Arts Gallery at SUNY Cortland to learn how to cut a beveled mat and frame your pieces for the Imagination Celebration Art Show. She will explain the steps and ways to make your art museum-worthy for display. Bring your student's artwork and your own to frame on this day. Bring your chromebook in case there is time to complete tags.
Parking: Use the street, the Dowd lot or Old Main lots.
Note: If you park in a lot you need to call 607-753-4123 to submit your liscence plate to avoid a ticket.