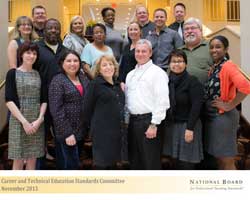 Invest in Yourself


National Board Awareness Information Session

Created by teachers, for teachers, National Board Certification is the profession's mark of accomplished teaching. It is:
* Built upon National Board Standards and the Five Core Propositions
* Rigorous and performance-based
* Based on multiple measures
* Peer-reviewed
* Voluntary
* Valid and reliable
National Board Certification is the most rigorous, coveted and respected certification available in education! It is part of the growing education reform movement that is advancing student learning, improving teaching and making schools better!! Research shows that the students of Board-certified teachers learn more than students in other classrooms, which is why many states and districts offer incentives for teachers to pursue Board certification.
This workshop will introduce you to the process of National Board, and encourage you to explore its many possibilities and benefits!! As a National Board Certified Teacher, you will join the ranks of the nation's most accomplished teachers who help students develop the necessary skills to thrive in school, in the workplace and in the 21st century global economy! You will get an overview of the National Board Certification (NBC) process for teachers, union leaders or administrators. You will know the requirements, timelines, fees, and options so that you are prepared to dive in...or encourage others to. It will also provide information about the professional, financial and technical supports available to candidates. This is professional development that is completely aligned with the New York State Teaching Standards and APPR. To date, more than 118,000 teachers in all 50 states and the District of Columbia have achieved National Board Certification. You could be next!
Support for National Board Certification in the Southern Tier of NY

Albert Shanker Grant
The New York State Education Department through the Albert Shanker Grant makes funding available to support eligible New York State public school teachers seeking their first National Board Certification.
The Albert Shanker grant is open for the 2019-2020 application period. It will help support eligible educators with the NBPTS Application fees.
NYS Teachers click to learn more about the Albert Shanker Grant
Created by teachers, for teachers, National Board Certification is the
profession's mark of accomplished teaching.
National Board Standards and National Board Certification give teachers and schools the tools to define and measure teaching excellence. Similar to certification in fields like medicine, National Board Certification is a rigorous, peer-reviewed process that ensures that Board-certified teachers have proven skills to advance student achievement. Over a decade's worth of evidence shows that the students of Board-certified teachers out perform their peers in other classrooms on achievement tests and that schools and districts with a high concentration of NBCTs see marked improvements in school culture, collaboration and teacher retention.