Online Study Group
This program is part of a state-wide effort by NYS Teacher Centers to bring awareness and support for non-punitive discipline and the effectiveness of such strategies. Join your colleagues in learning evidence- based approaches to working with students with behavior challenges. Learn proactive ways to help students of all abilities develop lagging skills and become more positively engaged with the school community.
Register here: Frontline/MyLearningPlan
Book: Lost at School: Why Our Kids with Behavioral Challenges are Falling Through the Cracks and How We Can Help Them, by Dr. Ross W. Greene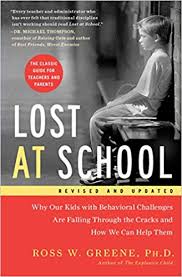 Start date: February 7, 2021- End date: April 11, 2021
Online- Sync/Async
Completed program = 9 CTLE hours
Read one chapter each week

Engage in chapter discussion questions

Meet your instructors and colleagues during interactive group chats
Frequent visits to the principal's office. Detentions. Suspensions. Expulsions. These are the established tools of school discipline for kids who don't abide by school rules, have a hard time getting along with other kids, don't seem to respect authority, don't seem interested in learning, and are disrupting the learning of their classmates.
But there's a big problem with these strategies: They are ineffective for most of the students to whom they are applied. It's time for a change in course. Relying on research from the neurosciences, Dr. Greene offers a new conceptual framework for understanding the difficulties of kids with behavioral challenges and explains why traditional discipline isn't effective at addressing these difficulties. Emphasizing the revolutionarily simple and positive notion that kids do well if they can, he persuasively argues that kids with behavioral challenges are not attention-seeking, manipulative, limit-testing, coercive, or unmotivated, but that they lack the skills to behave adaptively. And when adults recognize the true factors underlying difficult behavior and teach kids the skills in increments they can handle, the results are astounding: The kids overcome their obstacles; the frustration of teachers, parents, and classmates diminishes; and the well-being and learning of all students are enhanced.
In Lost at School, Dr. Greene describes how his road-tested, evidence-based approach -- called Collaborative Problem Solving -- can help challenging kids at school.
His lively, compelling narrative includes:
tools to identify the triggers and lagging skills underlying challenging behavior.
explicit guidance on how to radically improve interactions with challenging kids -- along with many examples showing how it's done.
dialogues, Q & A's, and the story, which runs through the book, of one child and his teachers, parents, and school.
practical guidance for successful planning and collaboration among teachers, parents, administrations, and kids.
Backed by years of experience and research, and written with a powerful sense of hope and achievable change, Lost at School gives teachers and parents the realistic strategies and information to impact the classroom experience of every challenging kid.